PharmaX
PharmaX has for almost two decades assisted pharmacists in their management duties; it has proved to be as effective for small pharmacies as for large ones. PharmaX manages all tasks related to pharmacy management: stock, Inventory, barcode, scheduling, counter sale…PharmaX Connect editions offer a complete integration with Chifa, customer loyalty possibilities for Parapharmacy products, recycle bin and a lot of new features that can improve even more your daily life
See more
Order

Key points
Modern and scalable software
1
PharmaX has a modern user experience in constant evolution and possibility of functional extension via various plugins. PharmaX also integrates the notion of custom properties for products and third parties on which you can do advanced searches. A set of reports are ready for use with the ability to develop customized reports that meet specific needs
Complete integration with Chifa
2
Chifa integration mechanism is fully automated so as to minimize user's actions. Use barcodes for sales, and you will find the order already entered in Chifa software, all you have to do is print and sign it! PharmaX allows monitoring pending transactions, customer balances as well as automatic creation of insured and entitled persons.
Complete pharmacy management
3
PharmaX allows full pharmacy management, regardless of its size. It encompasses all tasks related to the purchase/sale cycle; it has an integrated medical dictionary, as well as all the electronic prescription book information allowing you at any time to reproduce the information on the physical register. It includes a counter sale packed with options and features greatly facilitating the cashiers' tasks.
Customer loyalty program
4
An important new feature in PharmaX is the integration of customer loyalty in counter sales of parapharmacy products. This allows the customer to collect points according to a formula that you define as well as the consumption of these points in rebates as per a rate that you define. It is possible to turn off collection of points and use them as an on-site discount for cyclical operations.
Multi-till and multisession retail sale
5
The counter sales in PharmaX is very intuitive in order to speed up operations while minimizing errors. It incorporates retail sales with barcode, designation or price, returns, instances, operation tracing, multi-till and multisession, POS hardware support (cash drawer, customer display, receipt, scanner), customer loyalty management, and detailed transaction tracing.
Summarized and detailed counter sales
6
Counter tracing keeps track of each cashier's operation details in the store; it informs you about the products that have known a movement either for a sale or a return and also gives you a global summary of the day. All traces are logged at the end of the day to allow you seeing them later. The log also shows the closing cash desk, the variances and the different totals of the period.
Electronic invoice transmission with wholesalers
7
PharmaX introduces a great feature that will significantly change your communication with wholesalers by proposing an electronic service for receiving invoices by the wholesaler via Internet. This on one hand facilitates the exchanges and minimizes the errors due to manual input while allowing a considerable gain of time.
Analysis Tools: Product and third-party sheets
8
Have a synthesis of your data at your fingertips for a quick and efficient analysis, whether for products or third parties. With these easy to read sheets that aggregate all the information, the user will have a global view of the different movements related to the product, customer and supplier. The various listings include inventory movements, invoices and credit memos, transactions and a lot of other information.
Order wizard
9
Nothing is more difficult than to know what to buy and thus avoid over-storage or under-storage. The Order Wizard helps the pharmacist to get supplies depending on the product rotation. With the new version, the user can compare the rotation of several years at one glance.
Inventory support with dedicated terminal and double counting
10
PharmaX transforms the inventory usually painful and tedious into a simplified approach with the help of a wizard who in a few steps guides you step by step in the process. The inventory in PharmaX allows that of warehouses, double verification, use of an inventory terminal, multiple inventory (multiple locations), deferred inventory (finish the inventory and input it later in the software)
Rigorous monitoring of cash flow and bank reconciliation
11
You can manage transactions with customers or vendors as well as other operations (without third parties). With the Integrated Bank reconciliation, you have a rigorous follow-up of your cheques. You know which cheques are outstanding as well as which ones were paid; you can also specify the value date. You also have the option of indicating the cancelled or unpaid cheques, the invoices paid by these cheques will turn to unpaid status.
Full Inventory management
12
With advanced features on PharmaX, stock management has become easily manageable in the day to day. Stocks are organized in several warehouses, and products in batches, a powerful journal of stock movements and the indispensable inventory will simplify stock managers' duties. You can also set min and max quantity alerts for better tracking of seasonal rotation.
Security, audit
13
PharmaX aims to best accompany pharmacies by offering a solid foundation on which to rely on by offering more than 750 access rights. That way you can control who does what, display/hide information to the designated people based on your convenience (documents, cash account) and keep a constant journal auditing and tracing all the actions on the system.
Multi-warehouse & multi-batch
14
Multi-warehouse management is integrated in the software out of the box and gives the advantage of rigorous monitoring of each warehouse. You can minimize the stock on the sales room and thus the possible risks. Advanced views on quantities per warehouse are available. PharmaX has a highly developed batch management with expiration date tracking. Pricing can be by batch or by product.
Electronic Document Management
15
PharmaX integrates electronic document management on several entities: product, customer and supplier, documents, financial transactions, production… Documents are centralized in the server and users can access them through the entity dialog box or information bar. Users are offered a variety of options such as copying (or dragging) the document to another media, opening the file, or seeing the information related to it.
Statistics, Dashboard
16
Software could not be successful without offering the possibility to make the most of the information contained in the database and extract the information necessary for commercial management. PharmaX comes with a very rich set of preconfigured reports and a dashboard offering the basic information needed for management, new custom statistics can be created on demand.
Features
| | | | |
| --- | --- | --- | --- |
| | PharmaX Connect business | PharmaX Connect business + | PharmaX Connect Ultimate |
| | | | |
| --- | --- | --- | --- |
| | PharmaX Connect business | PharmaX Connect business + | PharmaX Connect Ultimate |
Stock Management
Chifa integration
Compound products (production)
Real time inventory
Bar code support
Electronic invoice reception
Multi-warehouse (inter-warehouse transfers)
Batch management – expiration dates - price per batch
Voucher payment and customer orders
Goods movement journal
Remainder management (partial deliveries and reservation per order)
Purchasing Management
Purchase order wizard (decision support) and equivalence management
Advanced Order Management
Sales Management
Price strategy (purchase/sales price catalog)
Document deadline tracking
Counter sales - point of sale management - POS hardware integration
Pharmacy preparation
Treasury Management and bank reconciliation
Treasury breakdown
Product Analytical Sheet
Third-party Analytical sheet
Internal Instant Messaging and notifications
Global Customer/supplier situation
Basic Statistics (Forms, listings)
Reports, charts and statistics Pack
Number of stations (server included)
1
2
3
Number of stations max
8
8
120
Related Products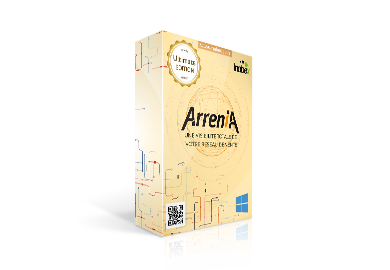 ArreniA
A Works extension for data synchronization between points of sale and purchasing center of a commercial network
See more
buy